Idealerweise besteht ein Scrum Team aus drei bis neun Personen. Doch was ist ratsam bei einem großen Projekt, für das viel mehr als neun Personen benötigt werden? Anstatt das Scrum Team zu vergrößern, besteht die Möglichkeit, mehrere Einzelteams zu bilden, die gemeinsam am selben Projekt arbeiten. Eine Technik, mit der man solche Projekte angehen kann, heißt "Scrum of Scrums".
Schematisch dargestellt könnte der Ansatz folgendermaßen aussehen: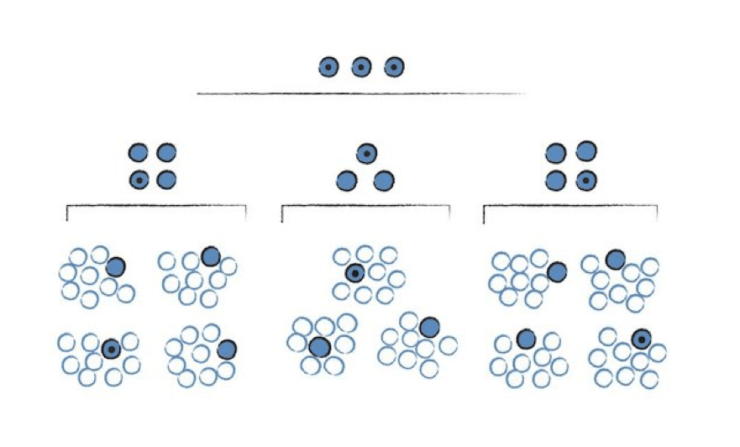 Mithilfe dieser Technik kann jedes einzelne Scrum Team in der normalen Scrum Arbeitsweise zu Werke gehen. Der einzige Unterschied besteht darin, dass jedes Team eine Person bestimmt, die ihr Einzelteam beim SoS Meeting vertritt. Bei diesem Treffen kommen die Vertreter aller Teams zusammen, um gemeinsam die Arbeit aller Scrum Teams zu koordinieren. In den meisten Unternehmen findet ein Scrum of Scrums Meeting zwei bis drei Mal pro Woche statt.
Scrum of Scrums Meeting
Die Teammitglieder bestimmen eine Person aus ihrer Mitte, die im Namen des Scrum Teams am SoS Meeting teilnimmt. Dies bedeutet jedoch nicht, dass die Person anschließend immer derjenige sein muss, der das Team vertritt. Im Laufe des Projekts kann das Team einen anderen Vertreter bestimmen: Dies hängt davon ab, welches Thema in dem Meeting voraussichtlich besprochen wird und wer aus dem Team am besten dafür geeignet ist.
Arbeiten nur wenige Teams an dem Projekt und würde das Scrum of Scrums Meeting zu klein werden? Dann kann es empfehlenswert sein, zwei Vertreter pro Team am Meeting teilnehmen zu lassen. Der Scrum Master kann dann zum Beispiel gemeinsam mit der Person, die vom Team bestimmt worden ist, am Treffen teilnehmen.
Die folgenden Fragen werden bei einem Scrum of Scrums Meeting gestellt:
1. Was hat Ihr Team seit dem letzten Meeting erreicht?
2. Welche Aufgaben will Ihr Team bis zum nächsten Meeting erledigen?
3. Gibt es etwas, das Ihrem Team im Weg steht?